50 Views
February 27, 2018
Arizona Republican takes early lead in tight race for House seat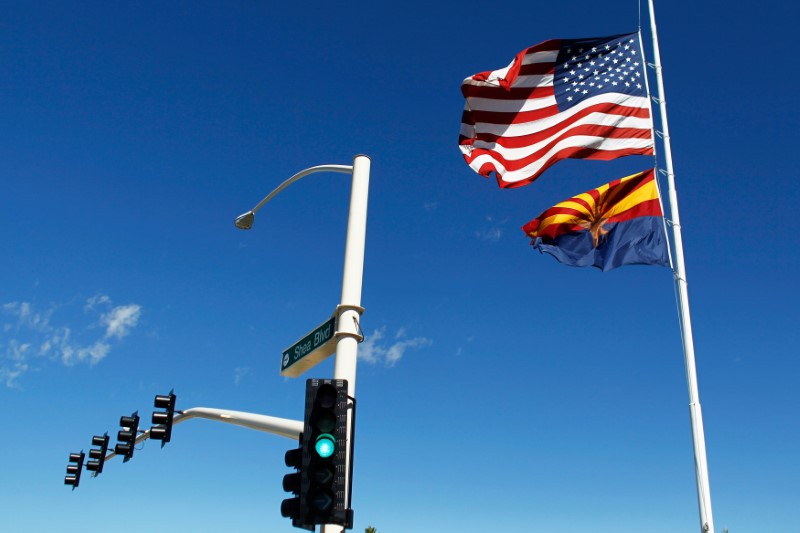 © Reuters. The U.S. and Arizona flags flutter in the wind in Fountain Hills
By David Schwartz
PHOENIX (Reuters) – Republicans were heading for victory in an Arizona election for a U.S. House of Representatives seat, early results suggested on Tuesday, after a tight race that may still bolster Democratic momentum heading into November's midterm vote.
   Republican Debbie Lesko was leading Democratic Hiral Tipirneni, a former emergency room doctor, by about 9,100 votes with about 10,500 votes still to be counted at 11 p.m. local time, according to the Maricopa County Recorder's Office.
"I want to promise you that I am going to continue to work hard for the people of my district and continue to represent you with the values that have continued to make our nation great," Lesko told her supporters in a speech.
Tipirneni said on Twitter that she was still waiting for the results in the vote to replace U.S. Representative Trent Franks, a Republican, in Arizona's 8th District seat.
"Whatever happens tonight or tomorrow, we're not giving up. Regardless of the outcome, we're taking this to November," she said.
Lesko's 5-point margin over Tipirneni, if maintained, would be much closer than the 21 points President Donald Trump won the district by in 2016 and may give Democrats more momentum heading into November's midterm elections.
Democrats launched a last-minute blitz to try to pull off a win, hoping to replicate strong performances by the party in Pennsylvania and Alabama, partly fueled by opposition to Trump.
The party must pick up 23 seats nationally to reclaim control of the House of Representatives and two seats to regain a majority in the Senate.
Franks resigned on Dec. 8 from the Phoenix district where he has served since 2003 amid allegations that he made improper advances to female staff and that he offered a female staff member $5 million to act as a surrogate to bear a child for him and his wife. He denied any wrongdoing.
Trump called for a strong Republican turnout for Lesko in a Tuesday tweet.
    Lesko has said she supports Trump's proposal for a border wall between the United States and Mexico, tightened border security and tax cuts. She is also against abortion and is a staunch gun-rights advocate.
    Tipirneni largely focussed her campaign on the need to improve healthcare for all consumers, including pushing to expand Medicare by allowing anyone to buy into the system. She opposes building of a wall.
sponsoredArticle = 'div-gpt-ad-1466339494851-0';
You may be interested